Chaplains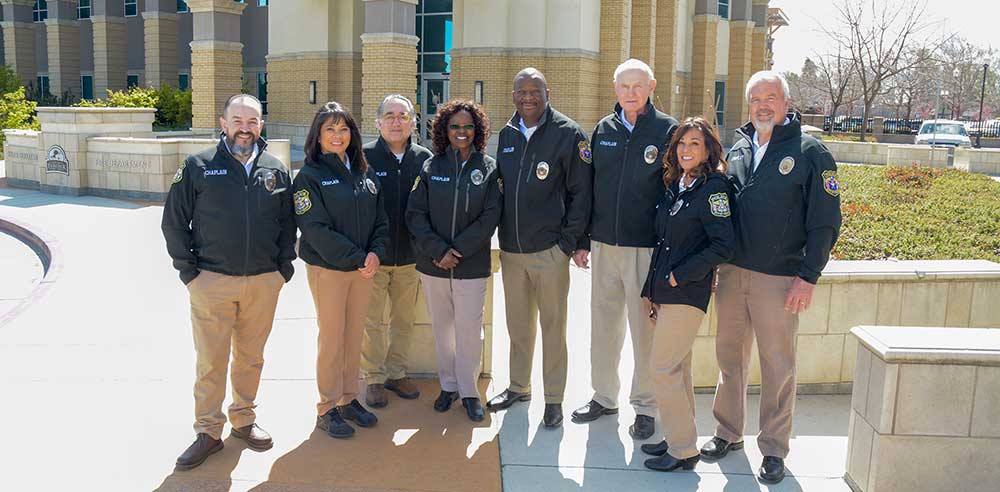 The Turlock Police Chaplaincy is a non-profit agency which exists to support Turlock Police Department employees and their families. In addition, the chaplaincy exists to encourage emotional recovery to persons in the Turlock community following critical incidents.
The Turlock chaplains are ordained clergy, with a minimum bachelor's degree and specialized training in working with and for law enforcement. That training includes 12 core areas of specialty provided by the
International Conference of Police Chaplains
and extensive stress management training from the
International Critical Incident Stress Foundation
.
Such trainings, coupled with the chaplains' ability to function freely in secular and sacred situations, bring a unique skill set to support local law enforcement and the community.
Our Chaplains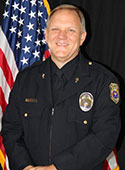 Chaplain Dave Williams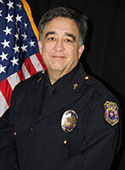 Chaplain Gerry Grossman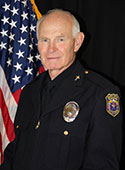 Chaplain Bob Reichert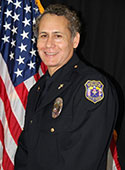 Chaplain Javier Carrillo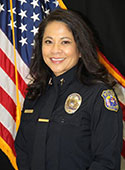 Chaplain Glorybelle Lillie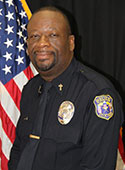 Chaplain Martin Gwasira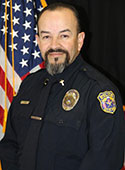 Chaplain Jose Perez

Phone number:
209-668-5550 ext 6644

Email:
tpschaplain@turlock.ca.us


Volunteer chaplains respond on a 24-7 basis, as requested by Turlock Police. Chaplains may respond to fatal car accidents, armed robberies, in-home deaths, or critical incidents involving law enforcement. Chaplains provide mental health first aid through critical incident stress management training, and support affected persons until they can be cared for by their own support systems.
In addition, chaplains have assisted local schools following critical incidents, help to deliver death notifications, represent the department at formal functions including the Law Enforcement memorial service, and provide confidential support and counsel to department employees.
The chaplaincy is governed by a ten member board of directors, representing many different Turlock faith groups. Donations received by the chaplaincy are used for administrative, materials and educational costs. There is open recruitment for those qualified and desiring to serve as chaplains.
More Turlock Police Chaplain Duties
Serve on committees like "Every 15 Minutes"
Provide training to the police officers and to the community on stress management
Attend formal department functions like award banquets, swearing in and promotional ceremonies, memorial services
Provide pastoral functions like weddings and funerals to department personnel, if requested
Introduce the goals of the chaplaincy to community organizations
Provide confidential counseling to department personnel
Serve on local Critical Incident Stress Management Teams
How can I be involved?
Be aware of the need for a Chaplain.
If you're involved in a critical incident, ask for the chaplain
If your workplace is the site of a critical incident, ask for the chaplain
If you see someone in obvious need, offer to connect them with the chaplain
Grief Support Groups
Bereaved Parents Support
- For parents whose children have died. Prior arrangement must be made to attend. Hospice of Emanuel, 825 Delbon Ave., 668-5283
Breast Cancer Support
- Hospice of Emanuel, 825 Delbon Ave., 668-2242.
Cancer Support
- For people with cancer and their families. Hospice of Emanuel, 825 Delbon Ave. 668-5283. www.cancercare.org.
General Grief Group
- For people grieving after the loss of a parent, sibling, significant other, friend. Prior arrangement must be made to attend. Community Hospice, 4368 Spyres Way, Modesto. 578-6378. www.hospiceheart.org.
Grief Recovery
- For widows, widowers, any who have lost a special person or terminally ill family member or friend. Sutter Gould Medical Foundation, 1700 McHenry Ave., Modesto, Suite 60B. Meets 2 to 3 p.m., Fridays. 480-8206.
Hanging Up Grief (HUG)
- . For children (ages 7-12). Community Hospice, 4368 Spyres Way, Modesto. Call ahead. 578-6378.
Jessica's House
- Jessica's House is a place for children, teens, and families who are grieving a death to share their experience. Jessica's House offers peer support groups where children and teens (kindergarten through high school age), along with their parents or caregivers, meet with others who have experienced the death of someone significant. The children's support groups are designed around age, type of death, and the connection to the person one who died. Parent and adult caregiver groups take place at the same time as the children's groups. Through talking and listening, you are free to find hope and comfort in your own way. For more information call (209) 250-5395.
Loss of Spouse Support
- Day and evening meetings available. Hospice of Emanuel, 825 Delbon Ave., Turlock, 668-5283.
MISS Foundation
- Support for those who have suffered the death of a baby through miscarriage, stillbirth, SIDS or neonatal. First Tuesday of the month at 7 p.m. at St. Luke's Episcopal Church, 350 W. Yosemite Ave., Merced. 725-9241. www.missfoundation.org.
Miss Foundation
- Child loss group for murder, suicide, illness and accidents. Last Tuesday of the month at 7 p.m. Unity Church, 305 26th St., Merced. 725-9241 or 658-8523.
Bereavement Support
Community Hospice offers bereavement support for our hospice families for 13 months after the loss of a loved one. Support includes individual and group grief support, education and resource materials, telephone support and more.
heal.hospiceheart.org
Hope Counseling
Community Grief and Mental Health Support Services
Hope Counseling offers compassionate and high-quality care using evidence-based practices to meet the needs of people with family, mental health and behavioral issues. Areas of expertise include anger management, anxiety, depression, eating disorders, grief and loss, marriage and relationship counseling, self-esteem issues, substance use disorder and more.
hopecounseling.health
The Helping Hearts
- For parents who have suffered the loss of a child through miscarriage, stillbirth or afterbirth death. Meets Thursdays, 7-8:30 p.m. at 3600 Sisk Rd., Suite 5E, Modesto. Call 602-9443 or 605-9626.
Widowed Persons Service
- Meets Mondays at 6:30 p.m. at Calvary Lutheran Church, 547 Rose Ave., Modesto., or the second and fourth Tuesday at the Senior Center, 450 E. A St., Oakdale. 577-4811 or 847-0560.
More Information
International Critical Incident Stress Foundation
Critical Incident Stress Management Training
Grief Recovery Resources
Recognizing and Escaping Domestic Violence
International Conference of Police Chaplains
National Police Week
Officer Down Memorial Page
Stanislaus County Peace Officer Memorial Page
What does the future hold for the Turlock Police Chaplaincy?
More trained and highly skilled chaplains
More use of on-call chaplains as the community becomes more familiar with their role
More education on critical incidents throughout the community by the chaplains
A greater presence in the community and in the department by the chaplains
Contact Us
Online
Turlock Chaplaincy (Facebook)
www.turlockchaplaincy.org
Phone number
(209) 668-5550 extension 6644
Email
tpschaplain@turlock.ca.us
Mailing address:
Turlock Police Chaplaincy, Inc.
PO Box 2865
Turlock, CA 95381