Garbage Containers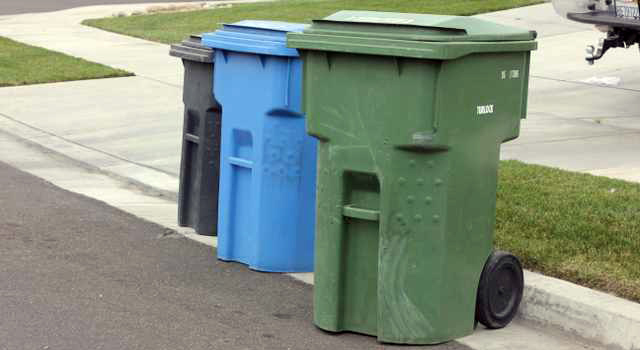 Turlock Scavenger provides three roll out containers (carts) to each resident of Turlock:
A charcoal grey 95 gallon cart for garbage
A blue 95 gallon cart for co-mingled recyclables, and
A green 95 gallon container for organic (including garden) waste
Multiple unit residences receive one green 95 gallon organic refuse container for the complex.
These containers are picked up once per week on assigned routes.
View your pickup day
Recycling
Citizens are encouraged to embrace the recycling habit, and actively participate in helping the City to meet its waste diversion goals.
Recycling Information
Larger household garbage container
For your convenience larger capacity gray refuse (household garbage) containers are available at an additional cost. 64 gallon and 96 gallon refuse containers can be ordered by contacting the Turlock Scavenger Company at (209) 668-7274.
On collection day
Set carts out by 5:00 am
Place carts in the street:

About 18 inches from the curb
At least 2 feet apart
Six feet from any parked vehicle

Don't overfill your carts
Don't let your carts sit out in public view for more than 24 hours (TMC 6-3-206)