Mayor Amy Bublak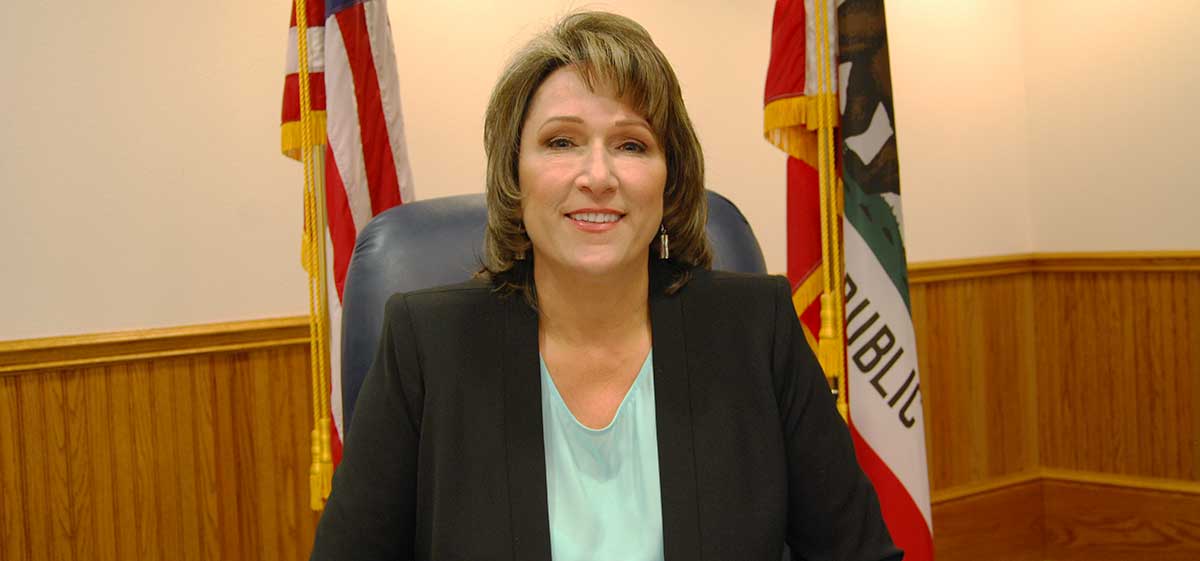 To email the mayor, send an email to abublak@turlock.ca.us
Background:
Amy Bublak was elected the twenty third Mayor of the City of Turlock on November 6, 2018. City residents made history by selecting Amy as Turlock's first retired police officer and first woman as their mayor. She campaigned on a transparent city government and has never changed that position.
Amy joined the Turlock City Council in the fall of 2008 and has always based her Council decisions upon wide input from every sector of Turlock: voters, business leaders large and small, city staff and her colleagues on the City Council.
She has lived in Turlock for over thirty years. While at CSU Stanislaus, Amy was twice elected student body President and earned NCAA All American honors as a member of the Track and Field team. In the fall of 2001, Amy was inducted into the CSU Stanislaus Athletics Hall of Fame. In 2005 she graduated from San Francisco State University earning a Master of Public Administration degree (M.P.A) in Urban Government.
Fiscal Policy:
Mayor Bublak believes in a "balanced-budget" fiscal policy where budget priorities are discussed openly allocating financial resources in the best interest of all Turlock residents. Underscoring her philosophy is fiscal prudence: ensuring the city has a pay as you go approach avoiding overspending when the revenue cannot and will not cover expenses.
Public Safety:
A retired law enforcement officer with over two decades of service, Mayor Bublak has always believed in a strong public safety program to ensure the safety of all residents. As part of her ongoing plan, she will always make decisions that keep Turlock residents safe by prioritizing funding for public safety as that is local government's first duty and solemn obligation to its citizens.
Economic Growth and Transparency:
As Chair of the Turlock Council Economic Development Committee, Amy strives to work to create a business-friendly environment that enhances the quality of life for Turlock City residents. Since being elected Mayor, 265 new business have opened creating hundreds of new jobs for Turlock residents.
Since her election as Mayor on November 6, 2018, Amy Bublak has led City Council to:
Operate with a balanced budget increasing our reserve fund.
Fully implement a public safety body camera program.
Continue to fight for a sensible Central Valley water solution and affordable rates.
Reorganize city government to ensure maximum fiscal transparency so the public fully understands the financial challenges facing the city - today and tomorrow.
To ensure complete fiscal transparency, Mayor Bublak will seek the consent of council to appoint a citizen's oversight committee made up of five people, chaired by Vice Mayor Pam Franco, and Turlock residents to work with an outside audit firm and City staff to ensure we are spending your tax dollars wisely.
To improve City services, while at the same time following the will of the people in using new Measure A Sales Tax Revenue, pursuant to City of Turlock Ordinance, City Council has established a Citizens' Oversight Committee. The Committee will be responsible for reviewing the annual Measure A accountability performance report, and for reporting its findings on Measure A spending to City Council and all Turlock residents Address the challenges of the homeless: At the direction of the Mayor and City Council, Acting City Manager Gary Hampton, Interim City Attorney George Petrulakis, and Interim Police Chief Steve Williams, have enacted policies that prevent illegal unsheltered homeless encampments from dominating the Turlock landscape while improving the living conditions for all unsheltered individuals.
Road Repair:
As mayor, Amy has been and continues to be committed to fixing the roads across the city. While ignoring the failure of the County to help with this, she has launched a program to create a program to fix the 500 miles of Turlock roads identified by City Engineers in need of repair. Why? Because Turlock has not allocated a single general fund dollar on road repair since 1985.
In her first two years as Mayor, more than 72 miles of roads has been repaired. While much more is to be done, Amy's committed to fix all Turlock roads in need of repair.
Bringing Washington DC to Turlock:
In 2019, Mayor Amy Bublak was appointed to the Social Problems Working Group, a subcommittee of the Commission on Law Enforcement and Administration of Justice. The group was launched in January following an executive order from President Trump.
Amy is married to former CSU Stanislaus Athletic Director Dr. Milton Richards and is a 1988 graduate of the CSU Stanislaus Sociology and Criminal Justice program and earned her M.P.A. majoring in public administration and urban government from San Francisco State University in 2005.