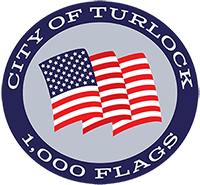 United States Flag Etiquette
Below are a few flag etiquette reminders:
Do not let the flag touch the ground
Do not fly the flag upside down, unless there is an emergency
Do not store the flag where it can get dirty
Do not fasten it or tie it back. Always allow it to fall free
Do not draw on or otherwise mark the flag
Display only from sunrise to sunset if illumination is not provided. If illuminated, the Flag may be displayed 24 hours per day.
Proper Flag Disposal
Tattered American flags can be dropped off at any of the following Turlock Fire Stations:
Fire Station 31, 540 E. Marshall
Fire Station 32, 791 S. Walnut Road
Fire Station 33, 501 E. Monte Vista Avenue
Fire Station 34, 2820 N. Walnut Road
City of Turlock Flag Policy
Our Progress
Register Your Flag
Help us track the number of flags in Turlock by registering your flag's location in the form below.